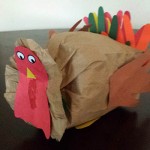 As a kid Thanksgiving dinner was something I always looked forward to. I think it was an extra special time for me because on certain years my autumn birthday would fall on Thanksgiving. When that happened the infamous Macy's parade would always seem like it was put on just for me. My birthday, Thanksgiving, and the coming Christmas fanfare were more than enough to excite an eleven-year-old. Never mind the precious family moments. I was a kid. Presents were paramount in my mind.
Thanksgiving dinner consisted of my parents, grandparents, two older brothers and my Uncle Frank. My father sat at one end of the dining room table and my grandfather sat at the other. My mother sat closest to the kitchen so she could get up every sixteen seconds to serve someone or get whatever someone yelled out was missing from the table. Where everyone else sat really didn't matter much as long as those three seats were occupied by the correct family members.
The meal my mother made albeit quite the culinary delight was not fully appreciated by this prepubescent girl. I wanted the traditional American Thanksgiving dinner that the other kids at school talked about. I longed for mashed potatoes, gravy, and Stove Top stuffing. Instead we had the traditional Italian American Thanksgiving dinner. We did have turkey, sweet potatoes, and pumpkin pie but everything in between was surely not what the Andersons' down the block had on their table. I swear my mother was trying to beat her personal best. She would cook more and more food each year in an attempt to outdo herself. Some of the foods that showed up on our table were antipasto, lasagna, manicotti, stuffed artichokes, and stuffed mushrooms and some years we would even begin with a bowl of homemade chicken soup or as some call it "Italian wedding soup."
There were regulars too; my grandfather's homemade wine, espresso with anisette and lemon rind, and a strange vegetable you ate raw called "finocchio." It is pronounced like the lying puppet boy, Pinocchio but with an "F" and more of an "oink" to it. Finocchio smelled like licorice but the taste was worlds away from a package of Twizzlers. Each year my grandmother would break off a piece of its stalk, hand it to me and tell me in her tough old voice reminiscent of a mob hit man, "It's good for your digestion." Being eleven did not stop my mother from offering me espresso with anisette or "black coffee" as she calls it. I assure you an eleven-year-old's palette is not designed for anisette or "black coffee" for that matter. When I turned my nose up to it the reaction I received was as if I was refusing something that was good for me, something that will help a kid grow; like Brussels sprouts or a glass of Ovaltine.
My grandfather came to America from Italy via Ellis Island many years ago. He was very proud of the wine he was able to make "in this country." After he had a few glasses himself he would proceed to fill everyone's glass including mine and my brother's. This time if the offer was refused it was viewed as an insult to my grandfather's ability to make wine with Queens, New York grapes than the ones grown on the hills of Sicily. I'm sure the real color of the wine was a rich burgundy but for me the wine was always the color pink because of all the ice my mother would throw in my glass after my grandfather poured it. It had the aroma of the chocolate liquor cherries you would eat at Christmas time. But more then that I remember the effect the wine had on everyone. After dinner but before dessert it appeared as though some of the guests had just run through a poppy garden. All the males seemed to take a much-needed nap at this time. While they napped, my mother and grandmother would clean up and all would wake to find a sea of pastries and cookies on the table. Oh yeah and one small pumpkin pie off to the side. Then my birthday cake would come out and all was forgiven.