The high-pitched buzz of a weed whacker at daybreak every Wednesday serves as a reminder to me that the peaceful days of living in the suburbs are long gone. That's because the city collects grass clippings and yard debris every Thursday and throws the neighborhood into a crazy, panic-induced marathon of landscaping and disturbing the peace the day before.
Yes, Wednesday is the day the neighbors seize the opportunity to unleash their arsenals of riding lawn mowers, oversized leaf blowers, chainsaws, hedge trimmers, and weed whackers on their tiny yards. With all of that gas-guzzling machinery you'd think they were maintaining property the size of a football field. The resulting noise makes me long for the old times before everyone went "gas," in the acoustic days of rakes, brooms, and shovels. If there were gas-powered toothbrushes, my neighbors would surely own them and use them outside, in early morning, underneath my window. One neighbor uses his leaf blower so often that he had it physically implanted into his body.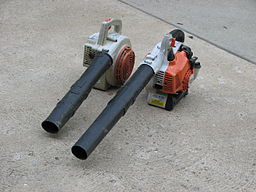 I don't blame them for using the tools that help get the job done quicker and easier. These days, people are overworked and free time is scarce. Not everyone has the time to landscape their property by themselves. When I was growing up, if someone couldn't cut their own lawn they paid a teenager from the neighborhood to do it and gave him a chance to earn some cash for his pimple cream. However, times have changed and teenagers no longer come outdoors. All of this has given rise to an alternate equally noisy solution: hiring a landscaper.
Every week, the landscapers roll into the neighborhood like thunder, in trucks and trailers each half a block long and half the street wide, loaded up with all kinds of equipment, vehicles, and of course the standard extra-wide, translucent green garbage cans. Ramps lower down onto the pavement, men in sunglasses strapped with gear and dressed in t-shirts, jeans, and work boots, file out like the troops invading Normandy Beach. They come fully prepared to do battle with the enemies: tall grass, overgrown hedges, and suburban tranquility.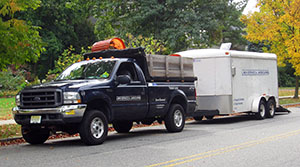 I'm always impressed by their efficiency and how they have the entire operation down to a science. The way the landscapers work together reminds me of an orchestra. Their window-rattling concerts usually go on for hours. With white clouds of billowing smoke and the strong odor of exhaust fumes, the neighborhood is graced with such classics as "Weed Whacker Quintet in C major," "Migraine Minuet in G," and "Concerto for Leaf Blower." Finally, after the lawns and bushes are perfectly manicured, the show comes to a close with an encore of "The Landscapian Rhapsody." They drive away in a final decrescendo of rumbling trucks.
The marathon ends by dusk on Wednesday.  Peace and quiet are back, but tomorrow is a new day with new jobs to tackle.