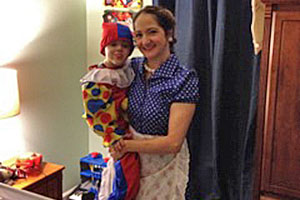 I won't deny that I like to plan heavily themed parties. Now that I have kids I have an excuse, if you will. However, I was planning decked out parties for my family and friends years before I had children. I believe there is always room for a costume or accessories when you have a party. I have definitely passed this trait down to my children too. The day after their birthday party they are planning next year's. At my children's birthdays, costumes are encouraged. They may dress up based on the party theme, be it superhero, fairy, or ghostbuster. And if we happen to have a Stay Puft Marshmallow costume lying around then some adult may put that on too. It doesn't always happen but you can probably put a large wager on me dressing in costume for my kid's parties.
The way little girls collect Shopkins, my daughter collects costumes. She will come up to me and beg for a random Peacock costume like it's the latest craze with the five-year-olds. When my son was four he was a faithful Scooby Doo fan. He came to me one day and asked for brown pants and a green shirt so he can be Shaggy. Not for Halloween, just for a plain old Thursday.
No doubt Halloween is my time to shine. I usually find at the very least four occasions to wear costumes during the season. And because I probably could have coined the phrase "the more the merrier," I must have everyone wearing a costume too. So I attempt to coerce my friends into dressing in costume at my annual party. I practically force my friends to sign a costume contract. Though I play it off as though I'm all cool about it, I never let on that I am raging with excitement about wearing giant sparkle eyelashes. Maybe my childhood dream of being a performer comes into play here. It doesn't really matter if eyelashes are part of the bumble bee anatomy, my version will be tres chic. I'm usually very passive-aggressive with my guests, telling them that it's okay to not wear a costume. "Yeah, you can wear a costume… or not… but most people are wearing costumes … sooooo I don't want you to feel left out," I say. But my friends see through all that. I don't know who I think I'm kidding. They still come to my house in a shirt that says, "This is my Costume."
Sometimes I miss the mark when I dress up. I am a detail-oriented person. I take note of what the extras are wearing in a movie. I like the obscure, like the background players in Cabaret. A Kit Kat girl with ripped stockings slashes of red rouge across her cheek, and a blank stare. I think a fabulous idea is to be the girl who gets tied to the train tracks from the silent movies and have my hubby be the evil man with the top hat and handlebar mustache.
One year I attempted to be the crime boss John Gotti's daughter, Victoria Gotti. I dressed all in white with a major self-tan and waist length platinum blonde hair. The closest I got was when someone asked me if I was Gwen Stefani. Didn't anyone ever watch "Growing Up Gotti"? Not one kid in my son's class knew who I was. All I can say is know your audience.
My baby shower happened to fall around Halloween time and I was privy to this so I came into the party wearing a witch hat and handed out candy from my personalized trick-or-treat bag. Any way I can sneak in a costume I will.
When I asked my son's soccer coach where I can go to buy his soccer costume he looked at me as if he was making a mental note that this was not the athletic family. "Uniform" sounds so serious.
I am always in the midst of party planning. I had a Martinis and Mistletoe Christmas party when I was single. My friends and I wore cute Holiday attire, downed peppermint martinis and watched "Eight Crazy Nights." I like to mix it up.
I once gave a dear friend of mine an Italian-themed birthday party complete with Italian men and giant hard salamis, which she later threw away because she thought they went bad. The men, not the salamis.
I go overboard with my events but not P-Diddy "White Party" overboard. Maybe more like a party he might have given when he was just known as Sean. The pre-Puffy days. When the guests leave, I swear I can hear them say in a white rapper kind of way, "Aint no party like a Pierre party" as they grab a grown-up goody bag and walk out the door.